The holiday season is officially here and now that Thanksgiving is over I am finally letting myself think about gift-giving.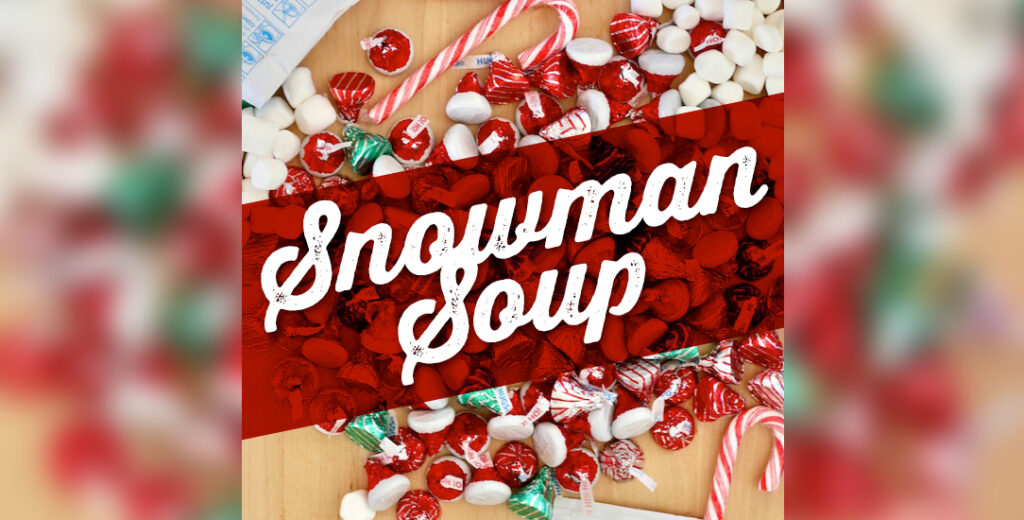 As a mother to four children my potential gift-giving list can get quite long, which can be stressful. I am a firm believer that gift-giving should bring joy, not stress.
Instead of stressing out in the aisles of Target I have decided to simplify things this year. I wanted to put together a cute gift idea that would be perfect for teachers, coaches, the babysitter, the bus driver, the mailman, neighbors, grandparents, and coworkers. This is a one size fits all type of gift. This gift idea also needed to avoid glue and glitter, because I have a toddler and this mama can't handle that sort of chaos.
To all the parents out there that are brave enough to mix a toddler with glitter and glue I raise my cup of reheated coffee to you. Cheers!
Snowman Soup is the ideal solution. The kiddos can help and no glitter is required! Hallelujah!
What the heck is Snowman Soup? Don't worry, it is just a fancy title for a simple hot chocolate project. Snowman Soup consists of a packet of hot chocolate, marshmallows, a candy cane, a couple pieces of chocolate candy like Hershey's Hugs and Kisses.
This can be an incredibly basic gift with everything placed in a ziptop baggie and a little poem attached. Or you can add the baggie to a new coffee mug. Now if you really want to bring it up to the next level you can add the baggie to a new coffee mug and include a book with the gift. I especially like this idea for teachers.
You can print the poem below which serves as the directions for preparing Snowman Soup. You can easily make this for one person or for an entire classroom. Have fun! And most importantly, enjoy your time together gift-making and gift-giving with your children.
Snowman Soup Poem
When the trees are covered in snow and the branches start to droop
You now know it is time to make some Snowman Soup
First, pour the hot chocolate and marshmallows into a mug
Then add two Hershey's Kisses and a single Hug
Carefully add some hot water, using the cane to mingle
Sit back, sip slowly, while you wait for Kris Kringle
Download a pdf of the Snowman Soup Poem
Recipe for Snowman Soup
1 packet of hot chocolate mix
10 mini marshmallows
2 Hershey's kisses
1 Hershey's Hug
1 candy candy
Directions:
Place all ingredients in a ziptop bag. Attach or include the Snowman Soup poem.