August is here and that means it is back to school season. This means it is time to start thinking about quick and easy breakfasts to make your mornings easier.
This year is a first for me. I will have four children, in four different schools, with four different start times. Getting everyone dressed, fed, and out the door with all of their correct supplies, materials, and band instruments will be more of a challenge than American Ninja Warrior.
Mornings are tricky. That is why at night everyone in my house does their best to prep for the next day. Clothes and shoes are laid out, backpacks are filled with the correct supplies, papers/folders are signed, and band instruments are set at the door.
All of this is done in an attempt for mornings to be nothing but smooth sailing. But like I said, mornings are tricky. One thing I have started doing is prepping quick and easy breakfasts that just need to be reheated a minute or less in the microwave.
Muffin tins are the perfect size for a grab and go breakfast. Have leftover bacon or sausage from your weekend breakfasts? Chop it up, put in a mini muffin tin, and spoon over some pancake batter. Now you have little pancake bites that can be frozen or refrigerated and reheated as needed.
Another muffin tin favorite is egg muffin cups. This is one of my favorite ways to use up any extra veggies and meat in the refrigerator. These can also be made and refrigerated or frozen ahead of time. Perfect for those busy school day mornings!
The egg muffin cups are so versatile that they can be eaten as is, made into a sandwich, or wrapped in a tortilla depending on how hungry everyone is.
By spending less than an hour on the weekend preparing and making these easy breakfasts you will be setting yourself and your family for success during the week. After all, breakfast is the most important meal of the day. Good luck this school year!
---
Pancake Bites
Pancake Bites Recipe
Makes 24 mini muffins
1 -12 ounce package breakfast sausage links, cooked
1 cup pancake mix
½ cup water
Heat oven to 350 degrees. Spray mini muffin tins with nonstick cooking spray.
In a medium size bowl mix together pancake mix and water until combined.
Cut each sausage link in thirds
Spoon pancake mix into mini muffin tins until ⅔ full
Press ⅓ sausage link into each mini muffin cup
Bake for 15 minutes or until golden
Allow to cool completely before placing in fridge or freezer. Reheat in the microwave in 30 second bursts until hot.
---
Egg Muffin Cups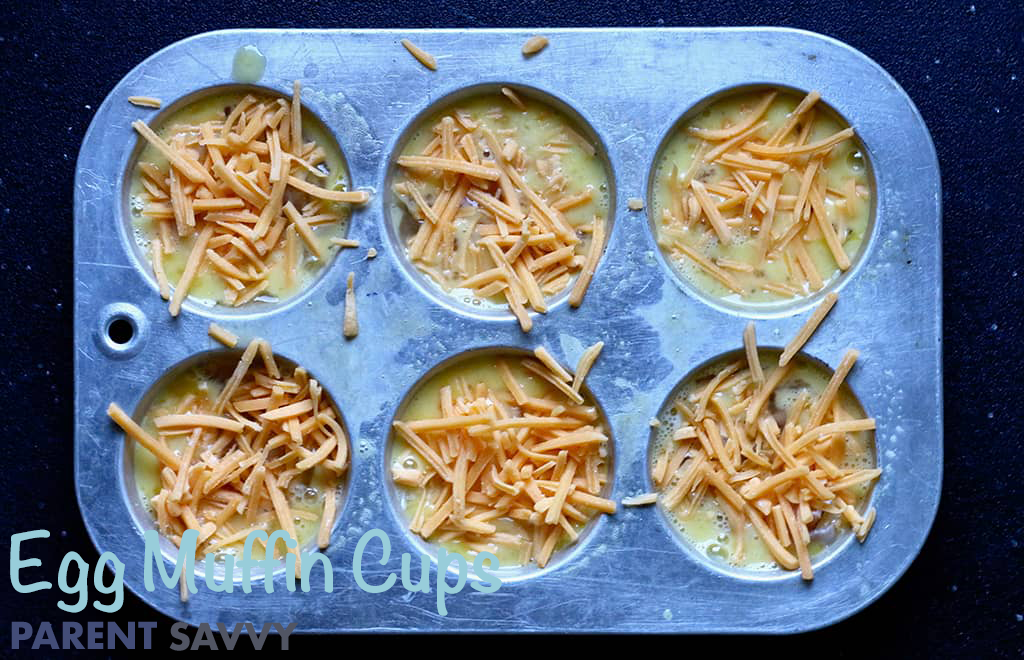 Egg Muffin Cups Recipe
Makes 6 regular size egg muffins
4 eggs, scrambled
3 slices of ham (sliced sandwich meat), chopped
6 tablespoons shredded cheddar
*optional, ½-¾ cup chopped cooked vegetables
Heat oven to 350 degrees. Spray 6 cup muffin tin with nonstick cooking spray
Sprinkle a little ham and vegetables if using in the bottom of the prepared muffin tin
Cover with scrambled eggs, until ⅔ filled
Sprinkle each muffin cup with 1 tablespoon cheese
Bake for 20 minutes or until eggs are set
Allow to cool completely before placing in the fridge or freezer. Reheat thawed eggs in the microwave for 45-60 seconds or until hot.