November Newsletter Giveaway
Starting last month we began drawing winners from our loyal email readers to receive prizes sponsored by Omaha Family. This month our winners are Kara G., Robert H., Tiffany H. and Kevin A!
Baby Jack Blankets
Babies develop cognitively, socially and emotionally through sensory play. Our satin modern top fabric paired with dimple dot minky backing gives a soothing experience for little ones. Accented along the edges are a variety of colored and textured ribbon tabs, sewn shut for added safety. A link loop with attached toy link is provided on every product to clip to a baby sling/carrier or stroller. For more information, visit www.babyjackblankets.com.
Baby Tooth Album
The Baby Tooth Album is a baby tooth keepsake product that individually organizes baby teeth and is specially designed to fit into keepsake boxes, photo albums, scrapbooks and memory books. For more information, visit www.babytoothalbum.com.
Charming Baby
Charming Baby is a baby inspired –– mother owned company. This product is a pragmatic solution to a baby's busy hands and a mother's busy schedule. Charming Baby acts as the extra set of hands you need when holding an infant at home or on the go. Charming Baby entertains in waiting rooms, restaurants, on an airplane, and even while changing a diaper. Babies always need mom, which means sometimes mom needs Charming Baby. For more information, visit www.charmingbaby.com.
Cupcake Nursing Pads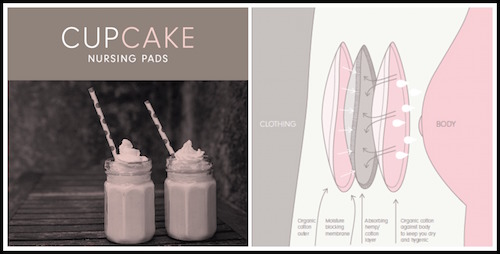 Cake Maternity wants you to meet its newest arrival: CupCake Nursing Pads! They are the only pads in the market that can be customized to manage light, medium and heavy milk flow absorption. Unlike other pads that are scratchy, ill-fitting, and don't stand up to leakage, CupCake "all-in-one" Nursing Pads have you covered – the patent-pending design includes: The smartest nursing pad available – CupCake Nursing Pads are non-disposable and economical, easy to use, and can be customized to absorb milk flow by adding or decreasing its liners. 100% organic materials – the ultra-soft, organic wicking cotton outer-layer transfers moisture to the inner cotton hemp fleece inner-layer to keep you feeling dry. Supreme comfort – the thin, contoured round-shaped pads discreetly provide the perfect fit for every breast shape and size. For more information, visit www.cakelingerie.com.